Recent happenings in Niger state in respect to the 2023 Gubernatorial elections is giving interested stakeholders and progressive Nigerlites cause for concern, particularly when it is coming at a time where Nigerlites are beginning to see governance in a clearer and unbiased perspective. it is even more worrisome where campaigns by political parties have started long ago and Nigerlites are beginning to narrow down their choices as to who will their Governor be; post 2023 elections. With the recent drama unfolding, some interested stakeholders who are concerned about the growth and progress of the state are beginning to ask questions as to who are the brains or people behind the sponsoring of AVM Mohammed Audu Bida (Rtd) under ADP, to read about AVM Bida's intentions to declare for Governor, kindly read the news report by Economic Confidential in the link below:
https://www.google.com/url?sa=t&rct=j&q=&esrc=s&source=web&cd=&cad=rja&uact=8&ved=2ahUKEwimksjcrp_8AhUxgv0HHcyHD_0QFnoECAsQAQ&url=https%3A%2F%2Feconomicconfidential.com%2F2022%2F12%2Faudu-bida-reveals-plans%2F&usg=AOvVaw2wRt-PfMHACAt64OHdfw-6.

Some of the questions popping up in our minds as concerned Nigerlites given the news of the AVM's intentions are discussed below.
First of all, the question is who is AVM Mohammed Audu Bida (Rtrd)?
The brief information gathered is that, AVM Mohammed Audu Bida is a one-time DG NEMA and that he only did a term in office and was not nominated for a second term at the expiration of his first term. What is more interesting is that, Nigerlietes are saying he is a very unpopular individual who hardly connects with the people before now, not to talk about how an unpopular candidate/General turned very recently a politician he is. Though he is from the late Audu Kwangila's family, other pundits have argued that his emergence under ADP is as a result of those in power wanting to use him as a spoiler against his younger sister's candidature who is contesting under APGA.

The reason of AVM Bida being used as a spoiler as argued by some pundits is that; the candidacy of his younger sister Hajiya Khadijah Abdullahi-Iya whom many political analyst thought to be an underdog is already getting serious support especially from the women and grassroots which has taken the major political parties in Niger state by surprise as such, the need to create confusion as well as split the votes of her supporters as well as from the late Audu Kwangila's family and more particularly to cause confusion in the family.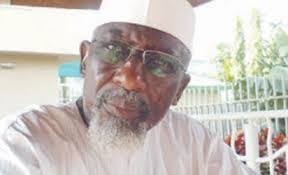 From this background, the writer wonders what those who are sponsoring AVM Bida are aiming to achieve by this kind of strategy, is it not time we allow those who mean well for the state lead us given their road map to take the state to greater heights than causing confusion and tension in the state?
Another point of concern is the role of INEC in this whole drama…
As of September 2022, INEC had already published the lists of the final candidates for federal and state's elections. This list can be seen on INEC portal via the link below:
https://www.google.com/url?sa=t&rct=j&q=&esrc=s&source=web&cd=&cad=rja&uact=8&ved=2ahUKEwiSvYX-r5_8AhX5hP0HHapFDZ0QFnoECBUQAQ&url=https%3A%2F%2Finecnigeria.org%2Fwp-content%2Fuploads%2F2022%2F10%2F2023-GENERAL-ELECTION-FINAL-LIST-OF-CANDIDATES-FOR-STATE-ELECTIONS-GOVERNORSHIP-HOUSES-OF-ASSEMBLY.pdf&usg=AOvVaw1HUWXRHZXifowY7dqITQ-B

The interesting thing about this list is that, AVM Mohammed Audu Bida was and is not on the list of successful candidates in the state candidate's list he didn't win any primaries nor was he in the game before August 2022 as such, one wonders why the AVM has the impetus to declare or make his intentions known when we know fully well that INEC closed her portal to receiving candidates long before this list was published.
Some of the question on the mind of Nigerlites are: is INEC now compromised? Are there some powerful forces bending the rules for INEC to dance to or is INEC telling us that they are not as credible as they claimed to be given all their talk about BIVAS and the credibility of transferring of results?
INEC should tell us more about this, given that it rejected substitution of candidates for many parties and now when did they publish and updated a new candidate's list?

We need answers from INEC in order to build confidence on the electorates that the electoral body and leaders are serious to conduct the 2023 elections without prejudice. To further give credence to the list of candidates as published by INEC, here is a link as published by the Guardian newspaper on the 21st September 2022, the writer has also check the list as of today the 30th of December 2022 and there is no where AVM Mohammed Audu Bida's name is amongst the listed of final candidates and this is making us wonder as stakeholders of the Niger project.
https://www.google.com/url?sa=t&rct=j&q=&esrc=s&source=web&cd=&cad=rja&uact=8&ved=2ahUKEwiSvYX-r5_8AhX5hP0HHapFDZ0QFnoECAoQAQ&url=https%3A%2F%2Fguardian.ng%2Fnews%2F2023-inec-publishes-final-list-of-candidates%2F&usg=AOvVaw3pmubc34HYF72QxH-dPg_X

finally, as concerned Nigerlietes, we are not oblivious of the fact that as a people, contest is open to everyone as long as due process is followed, but it will not be proper to pretend when we see brazen disregard for the rule of law and where impunity and scheming is in the offing to deny us the right to elect credible and sound candidates come 2023 elections, to this end the shroud in the emergence of AVM Mohammed Audu Bida from the back door is a pointer to such schemes and impositions which has always denied us the liberty to make sound decisions.

It should also be noted that; Nigerlites are tired of theses charades as being practiced by the old and backward system as such, we will come out massively to elect a popular candidate of our choice without fear or favour. The growth, development and unity of Niger and its people are far above that of any one or group of people.
Thank you and God bless Niger State
Sign
The Niger State Concern Progressives
count | 17