Personal Information:
Name: MAZADU DADER BAKO, Ph.D.
Aspiration: GOVERNORSHIP, PLATEAU STATE (PDP)
Age: 63
Place of worship: Church of Christ in Nations (COCIN), Area1, Garki, FCT and COCIN Local Church Council (LCC), Gyambwas, Mangu, Plateau State
Qualification: Ph.D. and M.Sc. Geology from Loughborough University, UK. B.Sc. Geology with First Class Honours, from University of Maiduguri.
Marital Status: Married to Mrs. Rebecca Dader BAKO only.
E-mail: mazadubako@gmail.com
Manifesto:
Unity
Economic Recovery (improve IGR; revamp ailing industries to spur employment)
Security
Human Capital Development.
Some Verifiable Services Provided:
Roofing of COCIN LCC, Gyambwas.
Built and furnished 3 blocks of 8 classrooms plus staff room and headteacher's office.
Renovated the Gyambwas Medical Centre.
Established ICT Centre which serves as JAMB Exam Centre at Mangu.
Established the best tourism outfit in Mangu (Shangtong Hotel).
Provided scholarship to all students in various tertiary institutions from Gyambwas.
Employed over 100 youths while in NNPC, and outside NNPC.
Currently not less than 30 youths are on personal payroll.
Graded the road from Mangu Halle to Gyambwas (about 8km).
Official and Professional Services:
Attained position of Group General Manager, NNPC.
Former Managing Director, Nigerian Gas Marketing Company, Warri (subsidiary of NNPC).
Led the team on the discovery of oil in Bauchi and started prospecting for Plateau State.
Has over 20 technical publications in national and international scientific journals.
Fellow, Nigeria Mining and Geosciences Society.
Fellow, Nigerian Association of Petroleum Explorationists.
Fellow, Nigerian Association of Hydrogeologists.
Fellow, Geological Society of London, UK.
Member, American Association of Petroleum Geologists, USA.
Member, Society of Exploration Geophysicists, USA.
Chartered Geoscientist, Council of Nigerian Mining Engineers and Geoscientists.
Past Vice President, Nigerian Association of Petroleum Explorationists.
Secretary, Nigerian Mining and Geosciences Society.
MD/CEO Shang Tong Nigeria Limited (oil and gas consultancy; hospitality and agro-allied
services).
Widely travelled and has global network.
Earnest Desire:
To Serve Plateau, Not Self.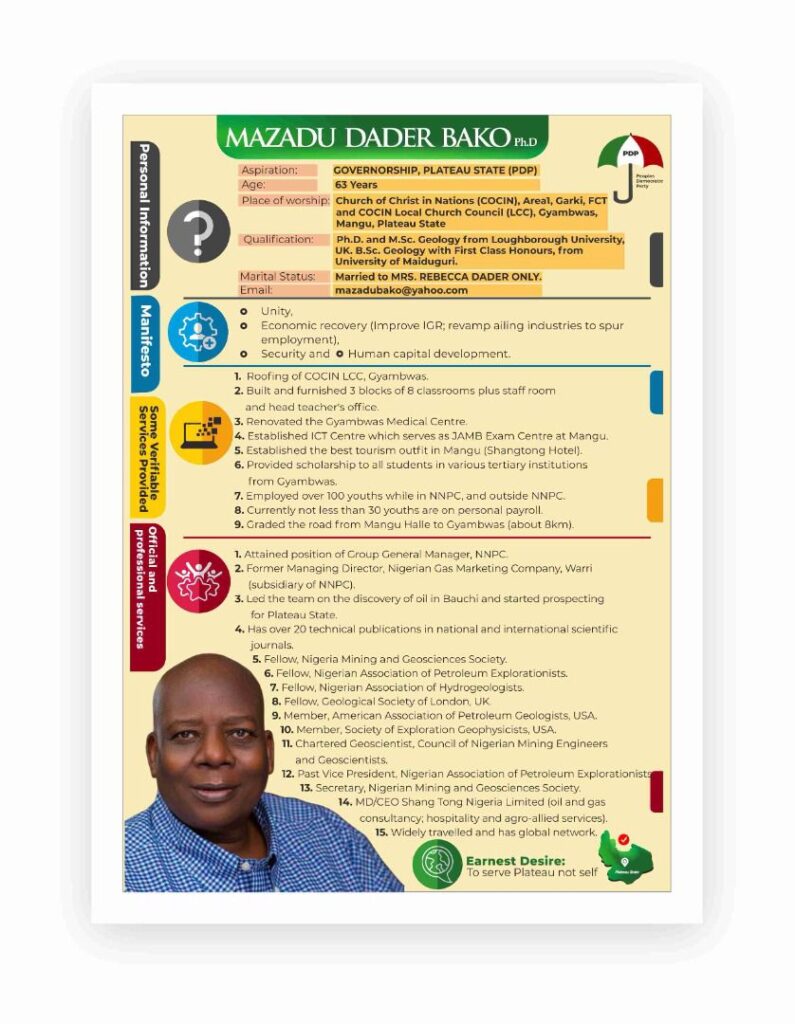 count | 48