A Female Youth Corp Member identified as Miss Longret Daspan, an indigene of Mangu Local Government Area of Plateau State who is presently serving in Cross River State has proven to Nigerians that good people still exist. She has also challenged and awaken the consciousness of people that one can still be sincere in his/her dealings and exhibit contentment no matter the situation one may be facing.
This she demonstrated by returning the sum of Nine Thousand Naira (N9,000) to a POS Operator who she used his service at Watt Market Calabar South LGA.
She decided to use the POS service after she ran out of cash and needed money to purchase goods.
The Lady who attended to her mistakenly debited N1,000 from her account instead of the N10,000 she requested.
She was handed over the N10,000 and got a debit alert of N1,000 after reaching home.
She hurriedly returned the N9,000 to the POS Owner.
When asked by this medium what motivated her to return the money despite the economic hardship, hear what she said "Because, my spirit won't let me be at rest as a Christian who has the fear of God"
"I am homeless, I always pay 1500 everyday at where I am( soldiers club in 146 Eburutu barracks) so when I saw the debit alert, something is telling me to just keep the money and use it for my feeding and the everyday accommodation, but immediately when that thoughts came, I said God forbids the day I will eat someone's sweat that is why I returned on Monday since Sunday is not a market day for Christian" she said.
According to her, even if the money was to the tune of a million naira, she would had still refunded it.
Her advice to people on such godly and good moral display goes thus "My advise to them is this; they should be sincere in their dealings no matter what the situation maybe because honesty is always the best and so also contentment is!"
The POS Operator wrote:
"The lady here is by name Daspan Longret Clement with the State Code; CR/22A/1531 who hails from Mangu Local Government of Plateau State who is currently doing her National Youth Service (NYSC) in Cross River Calabar. On Saturday, she came to WATT Market to buy some goods and she ran out of cash, so decided to withdraw 10,000 thousand Naira using the POS,but the lady in my shop mistakenly withdrew 1,000 from her account and gave the Corper 10,000. On reaching where she stays, she got a debit alert of 1,000 instead of 10,000. To my utter dismay, this young lady returned and refunded the sum of 9,000. Wowww am marvelled at this! I thought people of this nature have become extinct due to the depleted economy that has unleashed untold hardship on the masses.
Indeed, the World needs sincere people like this. For this act of honesty, May strange doors of favour be opened unto you, you shall succeed in all you do, you shall be favoured everywhere you go. Thank you Miss Longret Clement Daspan, God bless you. Mc"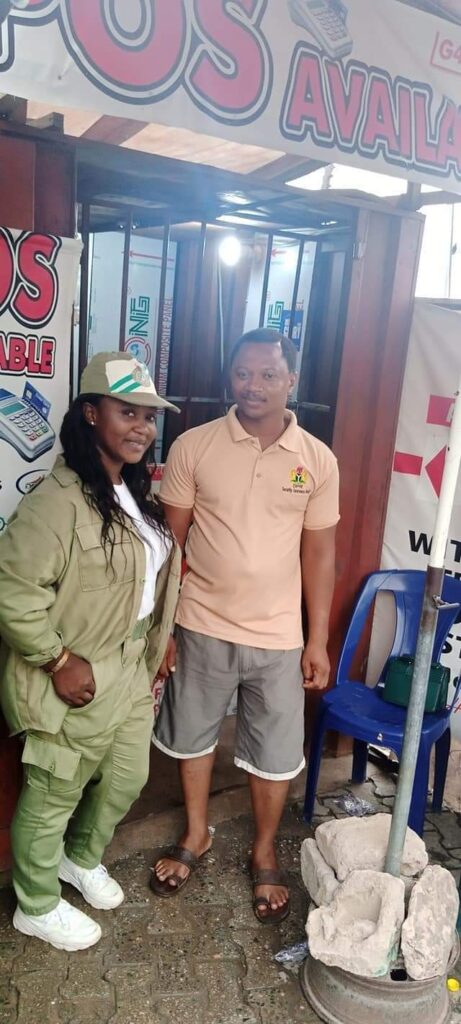 count | 148