Coalition of Plateau State Indigenous Youths consisting of Plateau Youth Council (PYC), Coalition of Plateau State Indigenous Youths and Youth Wing of the Christians Association of Nigeria (YOWICAN) has expressed sadness over the renewed attacks in the State especially in Mangu, Barkin Ladi, Bokkos, Jos South, Riyom and Bassa Local Government Areas calling on the Members of the State House of Assembly to as a matter of urgency resume plenary to address the security concerns in the State.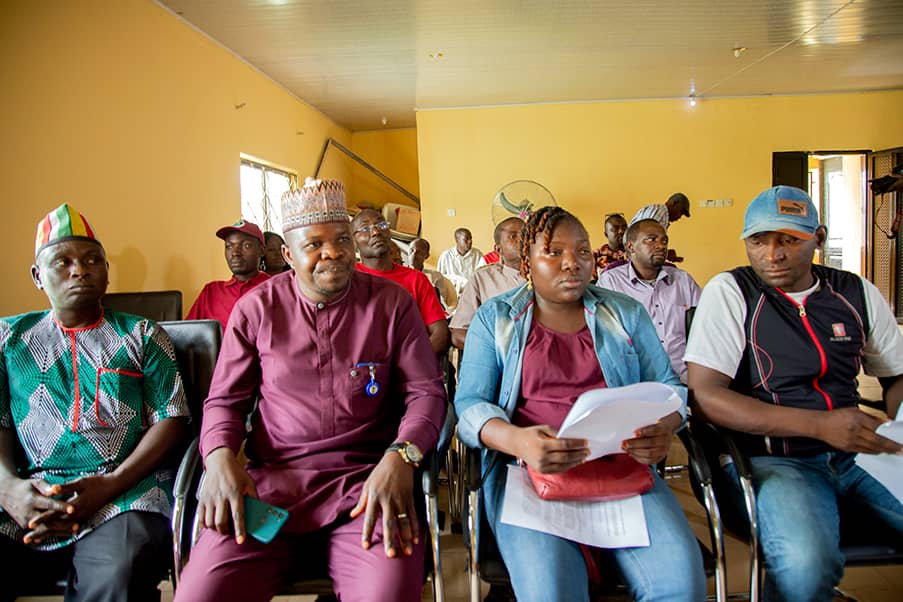 The coalition also pleaded with the State Commissioner of Police to order the opening of the House of Assembly Complex which has been under lock and key for Legislative activities to resume considering the critical time the insecurity has put the State into.
While empathizing with the Families of those who lost their loved ones, Mr. Lot Sunday Adas charge those responsible with the security of lives and property of the citizens to rise up to the occasion of fulfilling their constitutional mandate which they swore to.

According to him, the attacks are orchestrated largely to disrupt farming activities, economic livelihoods, displace the people and grab lands in the communities.
He decried the slow response of security personnel to protect the people and their property from the perpetuators of the heinous act.
The full text reads:
TEXT OF THE JOINT PRESS CONFERENCE BY THE LEADERSHIPS OF THE PLATEAU STATE YOUTH COUNCIL, COALITION OF PLATEAU STATE INDEGENOUS YOUTHS AND YOWICAN, ON BEHALF OF ALL PLATEAU YOUTHS, ON THE RENEWED KILLINGS AND  FULANI ATTACKS IN MANGU, BARKIN LADI, BOKKOS, JOS SOUTH, RIYOM and BASSA LGAs OF PLATEAU STATE ON SATURDAY, APRIL 29TH, 2023.
Protocol
Good morning gentlemen of the Press and welcome to this all important Press Conference.
It has come to the notice of the above mentioned coalition that Fulani militias have resumed and are also planning coordinated attacks and killings in Mangu, Bokkos, Barkin Ladi, Riyom, Jos South and Bassa LGAs of Plateau State.
These attacks are orchestrated largely to disrupt farming activities, economic livelihoods, displace population and grab lands in these commuties.
From April 15th, 2023 to date, the following villages and Hamlets have come under attacks, our people killed, properties worth millions of Naira destroyed while others have been displaced from their ancestral homes.
For the Records,

1: *MANGU LGA;*
a. Murish, Mai-tumbi and Jwak villages were attacked on the 15th and 16th of April, 2023, and 4 people were killed.
b. A mining site in Mangor was attacked and five people were killed on the 12th April, 2023.
2; *BARKIN-LAD LGA*
a. NTV village, 2 people were ambushed and killed on the 17th April 2023.
b. Rawuru, 1 person was ambushed and killed on the 22nd April, 2023.
c: In Tapo of Heipang, 4 people were killed on April 23rd, 2023.
d. In Heipang-Kwi road (Chit), two people were ambushed and killed on the 27th April, 2023.
3; *RIYOM LGA*
a. In Wereng, it was a case of massive willful destruction of farmlands on the 22nd of April, 2023.
b. Kuru Station of Wereng, 2 people were killed on the 23rd April, 2023.
c. In Rim- Bachi road, 3 people were ambushed and 2 fatally injured on the 23rd April, 2023.
d. In Jol, it was a case of willful destruction of farmlands on a massive scale and one person was ambushed, robbed of his motorcycle and abducted on the 24th and 25th April, 2023 respectively.
e. In Wereng Camp-Darwat road, 2 two clergies were ambushed and 1 fatally injured on the 24th April, 2023.
f. In Gako-Rim, one person was killed on the 26th April, 2023.
4; *JOS SOUTH*
a. In Turu (Farin Lamba), 6 people were killed and 1 injured on the 25th April, 2023.

5; *BOKKOS LGA*
a. In Marish, 3 people were attacked and killed.
The afforementioned attacks are in addition to the many attacks that have taken place in several villages in Bokkos, Riyom and Bassa LGAs.
The above incidences are sufficient evidence that the Fulani militias have resumed their onslaughts on the innocent people of Plateau state just like it has been happening in parts of Southern Kaduna and Benue state. In our view, these attacks should never be mistaken for isolated incidents or better still, the so-called farmer-herder clashes. Rather, they are strategies of war and terrorism aimed at disrupting farming activities, displacing the people and grabbing their lands.
Unfortunately for the victims in all these villages and Hamlets of Plateau State, the response of security agencies, particularly the Operation Safe Haven *(OPSH)* has always come too late and too little to save their lives and situation despite the early warning signals sent to them by members of our coalition.
Today, these people have lost their lives, their dreams and aspirations in life cut short while their responsibilities over their children and wives have to be shouldered by surviving family members whether young or aged. To us, this was entirely avoidable and therefore, highly condemnable.
From what has been witnessed in the theatre of the prevailing guerilla attacks and the keen observation of our coalition members, it is very obvious that the victims are not in doubt as to who their killers are. Indeed, they are of the fulani's stock and therefore, we cannot subscribe to the misleading charade of unknown gunmen. In addition, the spade, timing and precision of operations couple with the feeble response the plight of victims received is highly suggestive of collusion. The truth is that, the lives and circumstances of the victims of these killings and attacks are treated as of second-class value in Nigeria and this is totally unacceptable, unconstitutional and repugnant to natural justice, equity and good conscience.
Therefore, the Coalition of the afforementioned blocks of Plateau Youth have resolved as follows;
1: That operatives of Operation Safe Haven should desist from ironical and wrongful arrest of victims rather than offenders as in the case of Kuru Station of Wereng in Riyom LGA, where two people were wrongfully arrested having themselves suffered crops destruction by the Fulani Hearders.
2: That all State actors who are charged with the statutory responsibility of guaranteeing the security of lives and properties to rise up to the call of their duty without compromise, fear or favour and forestall any further loss of life and property in and around the general area.
3; That all Villages and Hamlets should initiate immediate measures that would guarantee the security of their lives and properties, and work in synergy with neighboring Communities in order to contend the Fulani onslaughts.
4; That Mr. Jatau Yakubu Kachai of Kuru station in Riyom LGA who was wrongfully arrested and continuously detained by Operation Safe Haven at it's headquarters in Jos be immediately released unconditionally.
5; That the Operation Safe Haven-OPSH has been complaisant and has compromised on several occasions and therefore, should be substituted with the Mobile Police squadron in all the affected areas given their proactive and more effective response to distress calls.
6; That the personnel of Operation Rainbow in Plateau State should be activated and deployed accordingly.
7; That Plateau State Government, should as a matter of urgency, inaugurate the taskforce on anti-land grabbing law of the state to enforce compliance.
8; That the State Security Council should take immediate measures against the influx of armed Fulanis who have infiltrated the State and now in places such as Shonong and Bangai in Bachi District, Ranku(Mahanga), Guava and Fass in Jol of Riyom LGA, Josho in Daffo District of Bokkos LGA to continue the attacks.
9; That the State House of Assembly should expedite legislative action to pass the Anti-Open Grazing Law of Plateau State, which shall inter alia, restrict cattle from roaming around, and hopefully check the influx of alien Fulani herders.
10; That the action taken by these leaderships is entirely apolitical and purely in the defense of the people of Plateau. Politicians are, therefore, strongly warned to, in their best interest, stear clear and never attempt to take advantage, or jeopardize this effort and process.
11;That failure of the appropriate authorities to comply with the demands of the Coalition, Plateau Youths will be left with no option than resort to self help
Conclusively, we wish to sympathize with the families of all those who have lost their loved ones in the cause of the dastardly act and pray for the repose of all the departed souls. We also pray for quick recovery for those that sustained different degrees of injuries with every assurance that we are with them at this painful moment and we shall stand STRONGLY with them in defense of our land. We are calling on the government, NGO's and spirited individuals to come to the aid of the injured persons who are receiving treatment in different hospitals.
God bless Plateau State!
~LOT SUNDAY ADAS
~Chairman, Plateau State Youth Council
~DEKETE JOSHUA PAUL
~Chairman, Coalition of Plateau State Indegenous Youths
~PHARMACIST MARKUS KANDA
~Chairman, YOWICAN, Plateau State
count | 180