By Michael Dem
The Vice-Chancellor of Plateau State University, Bokkos, Professor Matur Malau Bernard has eulogized the life and times of late Dr. Nancy Katu-Ogundumi, the former Head of Department of Mass Communication of the University, describing her as an outstanding academic, inspirational leader and a compassionate mentor who touched the lives of countless students and colleagues.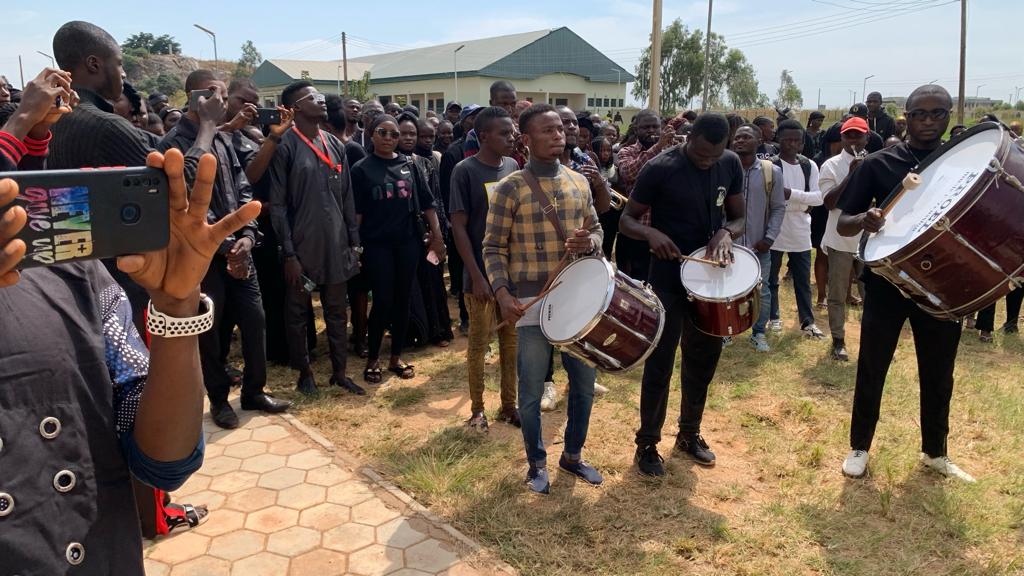 The Vice Chancellor in a heartfelt tribute to honour the memory of late Dr. Katu-Ogundumi on Monday, October 30, 2023 during the solemn procession that terminated at University's Senate building said late Dr Katu-Ogundumi's resilience, commitment and dedication to the advancement of the University while in service will remain dear to the Management, staff and students of the University.
The solemn procession which was led by the new Head of Department of Mass Communication, Dr Michael Adeyanju commenced at 11am and had colleagues of the deceased and students of the Department who were dressed in black attires turn up en masse to honour the fallen heroin.
The event threw up a somber atmosphere on campus reflecting the profound sense of loss felt by students and colleagues present. Members of the University community shared personal anecdotes and memories of Katu-Ogundumi.
The Deputy Vice Chancellor (Academics) of the University, Prof. Moses Galadima Pyefa with nostalgia revealed that he knew late Katu-Ogundumi since 1985 when they studied at the School of Preliminary Studies, Keffi. His emotional testimonials of the deceased underscored her kindness, dedication, and unwavering support to all who knew her.
Reflecting on the life and times of the former Head of Department, the President of the Association of Mass Communication Students, Mr. Dalap Isaac Simon said that the deceased was not just their teacher but a mentor and a role model.
"She pushed us to be our best and believed in our potentials as her students. Today, we honor her memory and pledge to carry forward her teachings." the students leader added.
Late Katu-Ogundumi was a highly erudite scholar and astute administrator who dedicated her life to mentoring colleagues and students as well as playing a pivotal role in shaping the Department of Mass Communication into a center of excellence. Her untimely demise on August 28, 2023 left a void that will be felt by all who knew and worked with her.
As the procession dispersed, the impact of late Katu-Ogundumi's contributions lingered in the hearts and minds of all who knew her and her memory will continue to inspire generations of students and colleagues.
count | 241