The General Officer Commanding (GOC) 3 Division Nigerian Army (NA) and Commander Operation SAFE HAVEN (OPSH), Major General Abdulsalam Abubakar on operational visit to 23 Brigade Yola, has commissioned multiple projects to enhance troops' welfare. Performing the commissioning ceremony at Gibson Jalo Cantonment Yola, Adamawa State, the GOC revealed that the projects will contribute to the overall development and wellbeing of troops to optimally perform their duties of protecting lives and property of the citizens.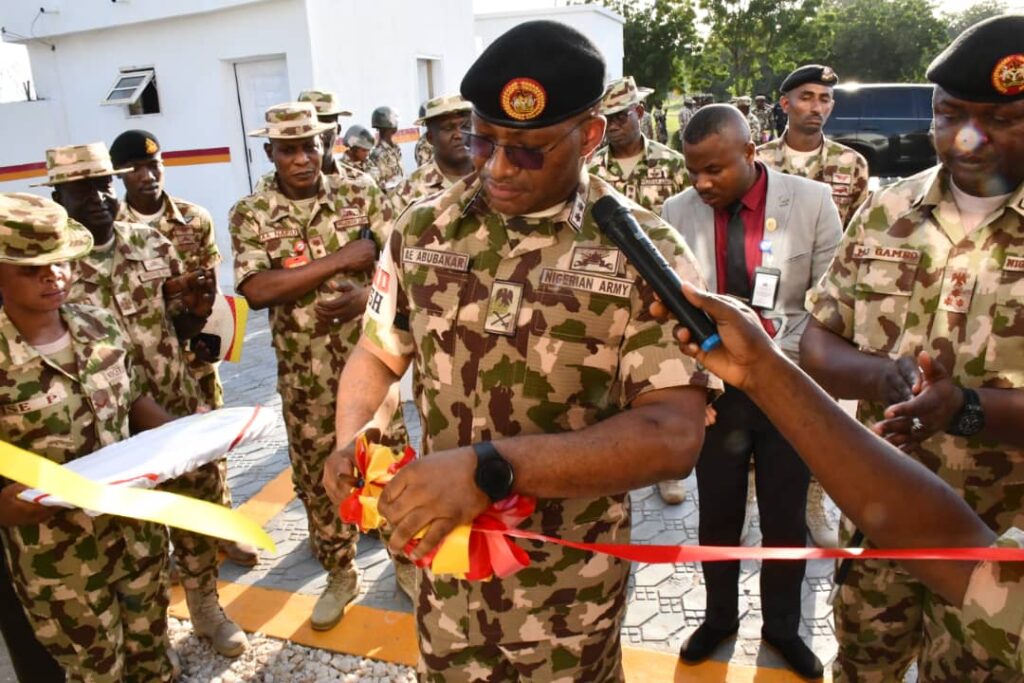 Major General AE Abubakar who was the Special Guest of Honour at the commissioning ceremony noted that, the projects were meticulously planned and executed to provide conducive and comfortable living environment for personnel and their families. He revealed that, the projects are to ensure troops rest and recharge to enable them perform at their best.
General Abubakar further noted that, the commissioned projects are not mere structures but symbols of progress, unity and dedication of the NA leadership to providing necessary infrastructure and facilities to help troops excel in their duties and live a fulfilling life. He implored personnel to utilize the projects efficiently, as they represent the trust, support of the nation and the Armed Forces to the troops. He further charged the troops to carry out their duties professionally as they continually make sacrifice to the nation.
While thanking the Chief of Army Staff for his visionary leadership and continued support to 3 Division, the GOC commended the Commander 23 Brigade, Brigadier General MJ Gambo for setting a befitting standard in the infrastructure development of the cantonment.
Earlier in his welcome address, the Commander 23 Brigade noted that the successful completion of the projects were made possible through the support and strategic guidance of the GOC. He thanked the Chief of Army Staff, Lieutenant General TA Lagbaja for considering 23 Brigade worthy of benefitting from the Chief of Army Staff intervention projects. He resonate the commitment of the Brigade to discharging its constitutional mandate inline with the mission mandate of the COAS.
Among the projects commissioned includes, remodelled Gibson Jalo Cantonment Gate and Quarter Guard, Newly constructed RSM Office, renovated 231 Battalion office complex as well as renovated officers and soldiers accommodation. Others include, newly constructed and renovated electric powered water borehole, renovated 23 Brigade Cemetery and the newly renovated Officers' mess amongst others.
count | 6