Health Experts in Nigeria have been commended for the significant roles they played and impacts made in combatting and suppressing the COVID-19 Pandemic.
The Executive Director of Centre for Information Technology And Development (CITAD), Dr. Yunusa Ya'u gave the commendation during a Two-day States' Lessons Learnt Conference on COVID-19 Vaccination Intervention which held on Thursday 16th to Friday 17th February, 2023 at K-Class Hotel Abuja.
The conference brought together Health Commissioners, Executive Secretaries/Chairmen of State Primary Health Care Development Boards and implementing Partners of the CITAD/MacArthur Foundation Public Education on the COVID-19 Vaccine Project from Borno, Niger, Plateau, Katsina, Kwara, Bauchi, Benue, Adamawa, Zamfara, Yobe, Kano, Kaduna and Taraba State.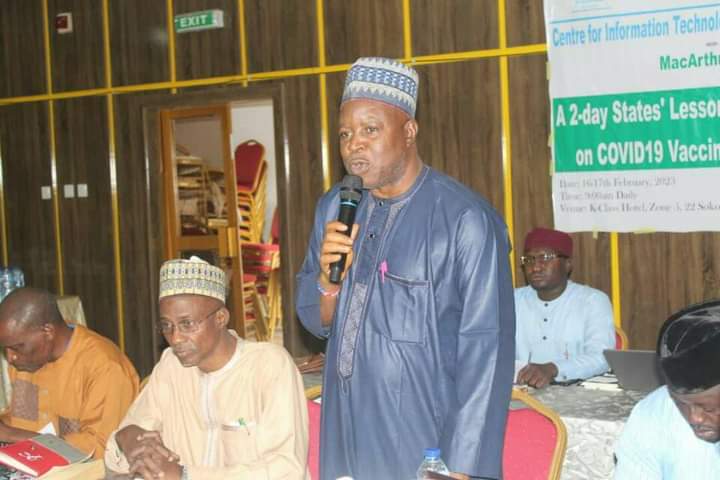 Dr. Y. Z. Ya'u in his remarks hinted that the conference was meant for experience sharing about COVID-19 challenges.
He charged health experts not to relent in dispelling myths and misconceptions so as to ensure that people are vaccinated.
According to him, it is vital to assess the lessons learnt and assessing the work done so far in combatting the COVID-19 pandemic which can be used to tackle possible future outbreaks and transform the health sector taking into account how the pandemic exposed the deteriorated condition of the health facilities in the Country.

Earlier, Hamza Ibrahim CITAD Programme Officer disclosed that the COVID-19 Vaccine Public Education Project is an intervention by MacArthur Foundation which CITAD is implementing to drive greater awareness on COVID-19, the safety and effectiveness of the COVID-19 Vaccines in order to achieve increased vaccination.
Health Commissioners from Sokoto, Taraba, Adamawa, Katsina and Bauchi States in their separate remarks applauded CITAD/MacArthur Foundation for the interventions which they said contributed greatly in tackling COVID-19.
They also commended the Centre for bringing health experts and other stakeholders to brainstorm and proffer solutions on how best to tackle outbreaks.
Experience sharing session featured Borno, Yobe, Plateau, Katsina, Benue, Kwara, Bauchi, Niger and Zamfara States with the Executive Secretaries/Chairmen of the Primary Health Care Development Board making presenting for their respective States.
Traditional Rulers, religious Leaders and some political office holders were lauded for COVID-19 Vaccine uptake and mobilization which boosted the confidence of the populace to accept the vaccines.
Vaccine hesitancy among health workers who are supposed to be role models, inadequate funding/delay in the release of funds, lack of payment to vaccination team owing to account errors in some cases, hard-to-get areas on account of insecurity, misinformation/conspiracy theories, cold chain management, and insufficient political will topped the list of challenges that hindered achieving full vaccination of eligible population.
Kwara State was commended for putting in place sound strategies which led to 84% coverage of eligible persons.
Top among the recommendations made by the health experts include the need for better interventions to communities with security challenges, continuous community engagements, strengthening the system in all Primary Health Care to tackle future outbreaks, the need for greater synergy to achieve 70% herd immunity to break transmission, increase funding to health sector, more political will to achieve healthier population, prompt payment of vaccination team members, adequate supervision, good reward system among others.
count | 46