A huge milestone has been achieved by Plateau State as the Plateau State Infrastructure Promotion and Regulatory Agency secured full Membership of the World Association of PPP Units & Professionals (WAPPP). WAPPP in a Press Release sighted by this medium stated that "The World Association of PPP Units and Professionals (WAPPP) and the Plateau State Infrastructure Promotion and Regulatory Agency, are pleased to announce Plateau State PPP Agency has become a full member of WAPPP"
This milestone recognition will afford the State the opportunity of connecting to global network of Public-Private Partnership (PPP) and the investment community which in turn will be able to attract Foreign Direct Investments (FDIs) which is the quest for the State. This membership has also placed the State on the global map and able to engage and partner with potential foreign investors and other global decision makers on how best PPP projects can be effectively delivered in accordance with the Sustainable Development Goals (SDGs) mandate.
With the Agency's profile joining these associations both at the African PPP Network and now the World Association of PPP Units and Professionals, it will assist in building trust and confidence in the global investment community and developmental financing institutions that the State is adopting the right measures for its development needs.
What does this present to the State? This opportunity requires the right attention as it regards positioning for global alignment with expertise support for the State's PPP Development initiatives since Plateau State PPP Agency is dedicated to attracting and facilitating foreign direct investments into the State. This puts the State in the right pedestal with the mandate of the agency being the strategic promotion of Plateau State as an ideal business and investment destination both locally and internationally, highlighting its great potential, as a significant agro allied hub, to help mitigate global food security challenges. Today as it stands, only Plateau State and Kaduna are the known Members of WAPPP in Nigeria. The State is also very rich in a variety of natural minerals and tourism potentials given its unique location.
WAPPP President Ziad-Alexandre Hayek has this to say about the listing of Plateau State PPP agency as full member "We are delighted to welcome the Plateau State as the Plateau State Infrastructure Promotion & Regulatory Agency of Nigeria to WAPPP's Membership. We strongly believe that PPP projects must be promoted and executed at the sub-national level if PPP is to ever fulfill its promise of achieving the SGDs. To this end, we look forward to working closely with the Plateau State PPP Agency to promote sustainable and successful PPP Projects that could become models for similar projects in the rest of the world."
When contacted to share his thoughts on the milestone achievement by the Plateau State PPP Agency, the Director General Mr. Felix Rwang-Dung disclosed that "We are thrilled that we have become a member of WAPPP. We understand the importance of collaborating with public and private stakeholders to achieve the common goal of advancing PPP initiatives for the much needed development of our dear State. We are confident that through our membership in WAPPP, we will have access to invaluable resources, insights and networking opportunities to attract investors. We are experiencing the value of this membership already with the existing PPP projects already being explored with members in WAPP to develop innovative PPP Projects for Plateau State."
WAPPP is a Geneva-based non-profit global association, which brings together all public and private stakeholders in the field of Public-Private Partnership (PPP). Its members are both institutional and individual. They include Public PPP Units, corporate investors, financial investors, and consultants across all sectors. More than a procurement tool, WAPPP considers PPP as a tool for development and for achieving the United Nation Sustainable Development Goals. It promotes best practices and the sharing of knowledge, expertise and resources among its members.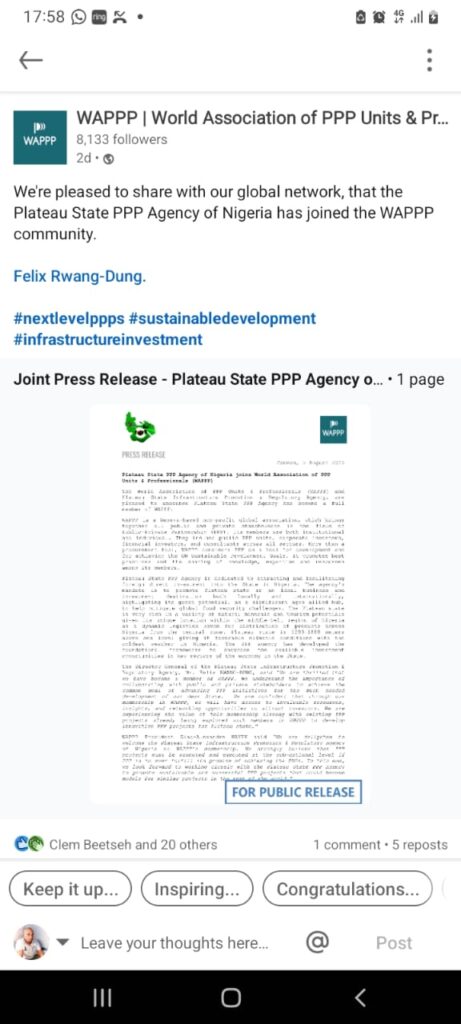 count | 153