The Chairman Youth Mobilization of the Atiku/Mutfwang Campaign Council, Mr Joshua Hitler Pwajok has said that there will be no more propaganda, lies and deceit in 2023 like the APC has perpetrated over the years.
Mr Joshua Hitler Pwajok made this known during the Inauguration of the directors, local government and Zonal coordinators of the Atiku/Mutfwang Youth Campaign Council. The event was held Friday afternoon at the conference hall of the Atiku/Mutfwang Campaign Office along Secretariat Road, Secretariat Junction, Jos Plateau State.
While reading his speech Mr Joshua Hitler Pwajok said that "we know our history as young people, and we will stand boldly to defend our heritage and identity as a people and we will also resist attempts by those in power today who want to force and indoctrinate the wrong narrative on us of who we are, what we are and what we live for".
He added that "We have gone through unimaginable times and events in our dear state and country in the last seven (7) years, under the APC Administration who fed on hopes and aspirations of the youths for a better and prosperous society through their expertise in propaganda, lies and deceit, but today we say 'No More'…"
Also speaking at the event, the gubernatorial candidate of the PDP in Plateau State, Barrister Caleb Mutfwang charged the youths to make the most of the opportunity given to them to serve in various capacities in order to guarantee the victory of the PDP in the State, stressing that every youth currently serving in the campaign council is being tested. He added that that the ability of everyone in the campaign to make the most impact through innovation is what will stand such out and hence greater responsibilities can be entrusted to such.
In his own remark, the Director General of the Atiku/Mutfwang Campaign Council, Hon Letep Dabang urged the youths serving in various capacities to take their responsibilities seriously and see themselves as building blocks in ensuring structural stability of the structure.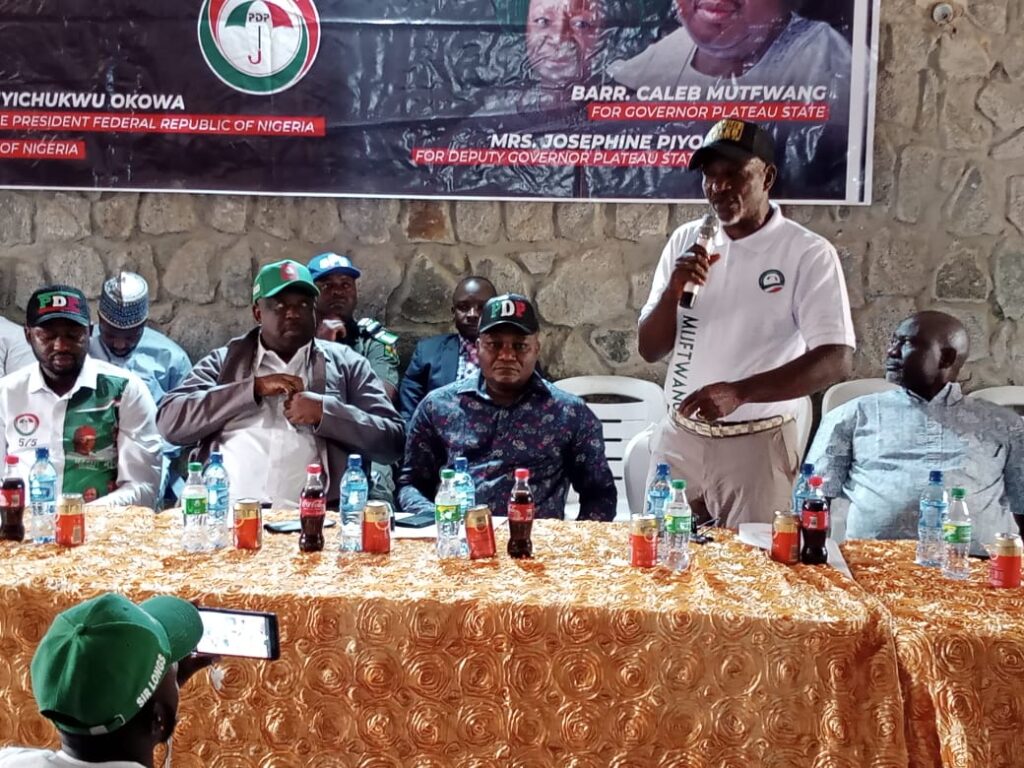 The event was also attended by the State Chairman of the PDP, Hon Chris Adukuchili Hassan and his EXCO who took turns to encourage the youths to ensure that they work hard at their various polling units to ensure the victory of the party come 2023. Also in attendance was former speaker, Plateau State House of Assembly Rt Hon Nuhu Abok Ayuba, former Youth Coordinators of previous PDP Campaign Councils Mr Edmond Zunded and John Mark respectively, as well as other critical stakeholders within the youth community, as well as youth representatives of the party from the 17 LGAs of the State.
count | 30