The Executive Director, Beautiful Gate Handicap Peoples Center, Chief Ayuba Burki Gufwan has been specially recognized by Rotary International for his philanthropic interventions, chief among which is his work in Chief Ayuba Burki Gufwan bags Rotary International Award, Calls for efforts to rehabilitate Polio Survivors succor to persons living with special needs across Nigeria, especially Polio Survivors.
The Special Recognition Award was presented to Chief Burki, during the 2023 National Polio Field Workers Award which held Thursday 27th April, 2023 at the conference hall of Tahir Guest Palace Hotel, Kano, Kano State. The event was organized to recognize implementers who have been in the forefront of the polio vaccination drive.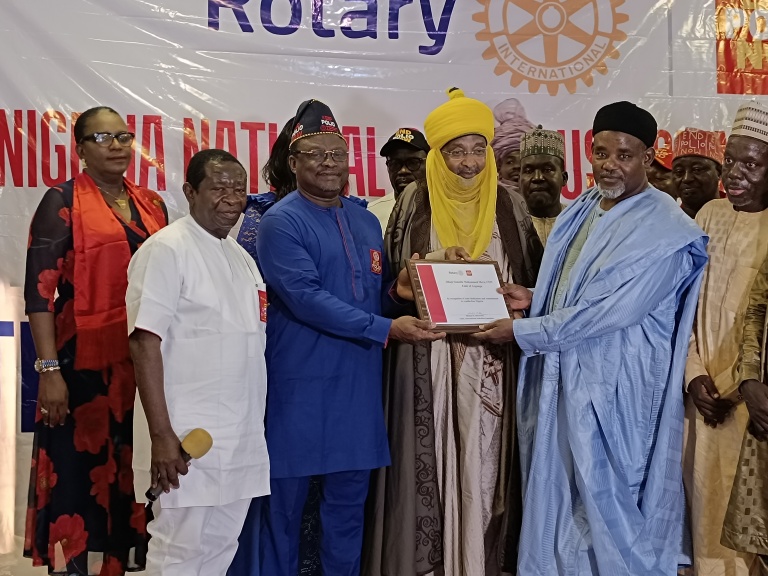 While presenting the Special Recognition Award, they had this to say "Ayuba Burki Gufwan is an inspiring polio survivor whose hope was restored when his uncle built him a hand-pedaled tricycle at age 19. Now a qualified Lawyer and Executive Director of the Beautiful Gate Handicap Peoples Center, He dedicates his life to wiping out polio and supporting other polio survivors in Nigeria by employing them to build wheelchairs. His foundation has built and given morethan 14,000 tricycles across the country. He has dedicated his life to telling his story, working with groups, families, and organizations on the necessity of ending polio".
The Chairman of the occasion, the Emir of Argungu, HRH Alhaji Samaila Muhammed Mera, CON, represented by Alhaji Aminu Inuwa congratulated all awardees for their efforts in the eradication of polio.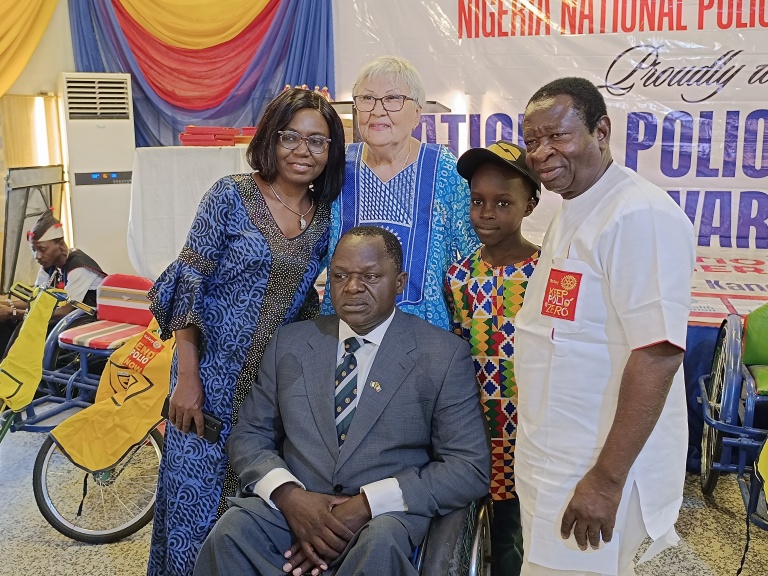 Chief Ayuba Burki Gufwan in his usual philanthropy donated 100 wheelchairs to person living with special needs who at the event, shortly after receiving his award. While presenting the wheelchairs, Chief Burki charges Rotary Club International, Bill and Melinda Gates Foundation, UNICEF & other donors to look into the rehabilitation of Polio Survivors, which according to him only lost their part of their limbs to polio but had not lost the opportunities of life, adding that by restoring partial mobility hope has been restored for polio survivors to pursue their live ambitions. He stressed that there is need for adequate attention to be given to ensure that surviving polio victims are rehabilitated across the country.
While delivering his good will message, The Emir of Kano, HRH Alhaji Aminu Ado Bayero, CFR, who was represented by Alhaji Abubakar Sule Gaya, encouraged persons living with special needs present not to be discouraged because they are as human as those without disabilities. He urged Rotary International and others to continue to support persons them in order to be productive to Nigeria. He used the opportunity to pray for Nigeria, and particularly Nigerians trapped in Sudan for their safety.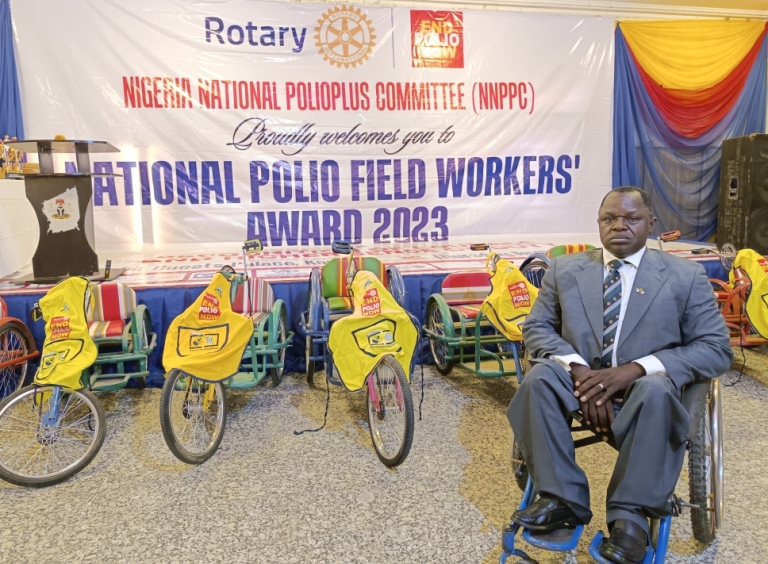 Goodwill messages were received from Rotary International partners such as the Nigerian Red Cross, UNICEF, Bill & Melinda Gates Foundation etc
count | 46