Not for profit Organization, Beautiful Gate Handicapped People Center, Jos has put smile on the face of People living with disabilities in Bauchi.
The organization in collaboration with Shedi Dalis Dakum, a National Youth Service Corp member distributed 30 tricycle wheelchairs and 20 white canes to People living with Disabilities.
Commisioning the items, Alhaji Hamisu Namadi, the Bauchi state Coordinator of NYSC appreciated the organization for supporting Corper Shedi personal Community Development Service.
Speaking at the event, Director of the Beautiful Gate Handicapped People Center, Jos, Chief Ayuba Burki Gufwan urged the beneficiaries of the gesture to put it into good use. "In the Beautiful Gate, we don't see disability as a kiss of death, rather it is a challenge waiting to be overcome. I urge the beneficiaries to go to school, engage in business or learn a trade", he said.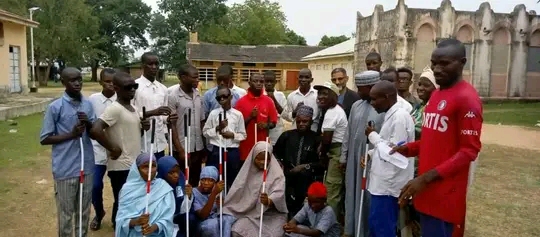 Pastor Roop Chopra, a visitor from India who is in Nigeria to understudy the operations of the Beautiful Gate with a plan to set up something similar in his country told the gathering to appreciate the organization for doing remarkably well in the rehabilitation of polio and accident victims.
The donation of the mobility appliances took place at the General Hassan Usman Katsina unity college Yelwa, Bauchi State.
count | 49