One hundred and thirty participants have benefited from the one-day training organized by Dr Elkanah Garang for farmers in order to gain knowledge about Yam Sack-Farming.
The idea of the training was to introduce farmers to yam farming in order to make yam a signature crop in Bokkos LGA in Plateau State. With the introduction of a variety of yam with export potential, farmers are encouraged to queue behind this particular farming practice of Sack-Farming which by implication helps conserve land for agricultural purposes and explores economic opportunities in the area.
The one-day training held at the Teachers House, Bokkos, headquarters of Bokkos LGA of Plateau State on Tuesday 20th June 2023. It had in attendance 130 farmers who took advantage of the expose' on yam farming in Sacks, which requires just little space for cultivation.
Lead facilitator Gladys Igomu of Efema Farms and Agro Consultancy took time to introduce participants to Yam Sack-Farming, a practice which appears effective, especially in conservation of land for agricultural purposes. Yam Sack-Farming only requires just a little space enough keep a number sacks filled with soil that house the improved variety of yam.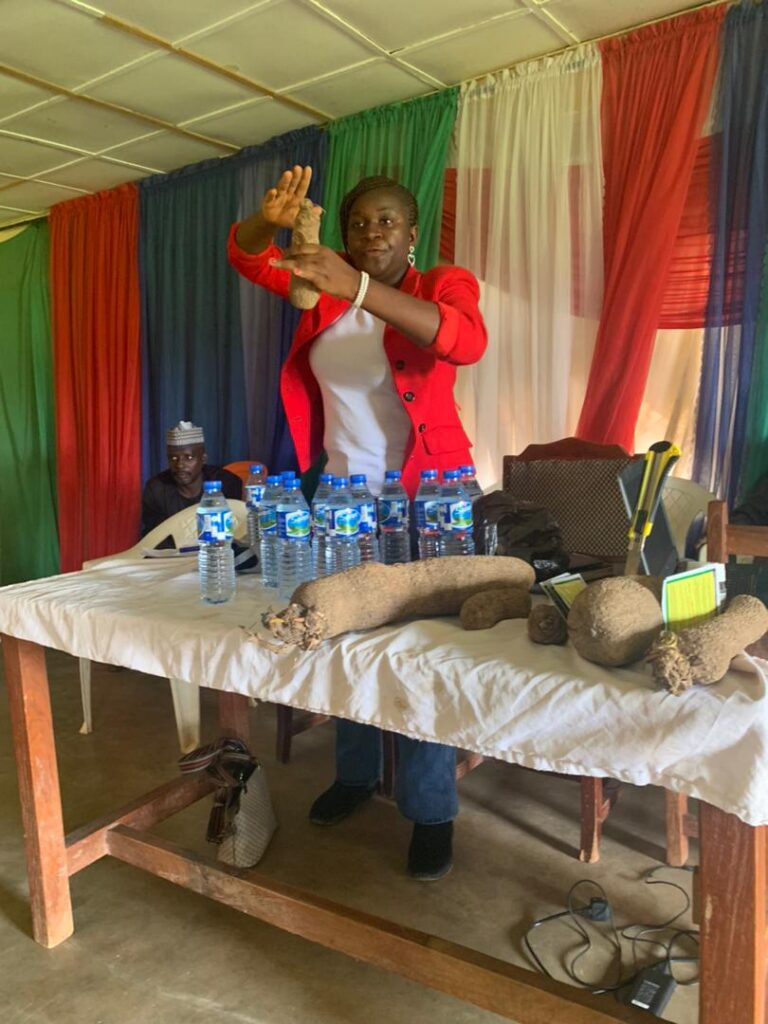 Excited participants welcomed the new farming practice with open arms and had the opportunity of practically planting the improved yam seedlings under the inspection of the facilitators.
High point of the event was the presentation of free yam seedlings to participants, courtesy of Dr Elkanah Garang. Dr Elkanah Garang has been in the forefront of philanthropy to hinterland communities across Nigeria. His interventions range from provision of start up capital for women and youths, infrastructural interventions, scholarship for indigent students, provision of portable and safe drinking water, provision of mobile network boosters, solar street lightening among many other interventions.
count | 265